Wealth Extraction and the Making of the Delmar Divide
St. Louis' crisis of economic development and growth is often framed as part of a broader shift to the "rust belt," with the departure of auto and other large-scale manufacturing. But organizers and researchers most actively argue that such a narrative treats this as an abstract process. The fact is that the economic base of the region has been shrinking due to active disinvestment and wealth extraction, which took the value that auto, airport, and other industrial and service workers built. Auto manufacturing, along with large corporations like TWA, departed in the late 1990s, while elite bankers and developers helped remove usury laws in the state of Missouri. This opened the door to predatory lending to a struggling middle class, which included housing, business and personal loans. At the same time, small subdivided municipalities (created as part of white flight) turned to extracting wealth from residents via relentless policing and a regime of fines, fees, and tickets. 
Ferguson, as organizers interviewed explained, opened the eyes of the nation to the kinds of wealth extraction that transformed St. Louis. Such extraction did not affect all residents equally. Ferguson also brought new light to the ways that segregation has become suburbanized in many US cities like St. Louis. The "Delmar Divide," entrenched by decades of Jim Crow violence, residential segregation, redlining, uneven investment, and more, now has shifted such that many Black residents have moved to the South part of the city. In 2014, at the time of the Ferguson uprising, on one side of the divide residents were 99% black, with a $73,000 median home value, and a median income of $18,000, while on the flipside the other side was 73% white, a median house price $335,000 and median income of $50,000. In other words, St. Louis' histories of economic (de-)development have been indelibly shaped by racial inequality, with Black and non-white workers, taxpayers, and residents bearing the brunt of the disinvestment and extractive financial and municipal policies.
St. Louis' Corporate-Controlled Agenda
Part of what has shaped an economic trajectory of extraction and inequality is corporate dominance of the governance agenda. This is representative of the city's Fordist past - i.e. the era of big corporations, a bigger state, and big labor. But while the welfare state and labor power was undermined systematically, corporate power remained.  For decades, 5 key corporate actors run by local families dominated St. Louis: Enterprise Car Rental, Peabody Energy (coal), Bayer Crop Science/Monsanto, Purina (now bankrupt), and Arch Resources (formerly Arch Coal). Such corporations wielded significant power over the St. Louis region's policy agenda, especially through an entity called Civic Progress, a Chamber of Commerce of sorts. Many of the companies that were headquartered in St. Louis have since left the region, or maintained an office but not a headquarters.
In the last decade, tech companies have entered this small and powerful group, including Accenture and ESRI. With the development of a National Geospatial-Intelligence Agency headquarters, the single largest investment in St. Louis of $2 billion, historical trends continue to place corporate power above local needs. A unified agenda of lobbyists has sought a regime of tax breaks and incentives that have benefited mostly tech companies and developers. These kinds of lock-step moves among city, county, and state officials and corporate power threaten to further entrench inequality in new ways, including further uneven development and new gentrification, without resolving the deep power imbalances that have most hard-hit communities of color.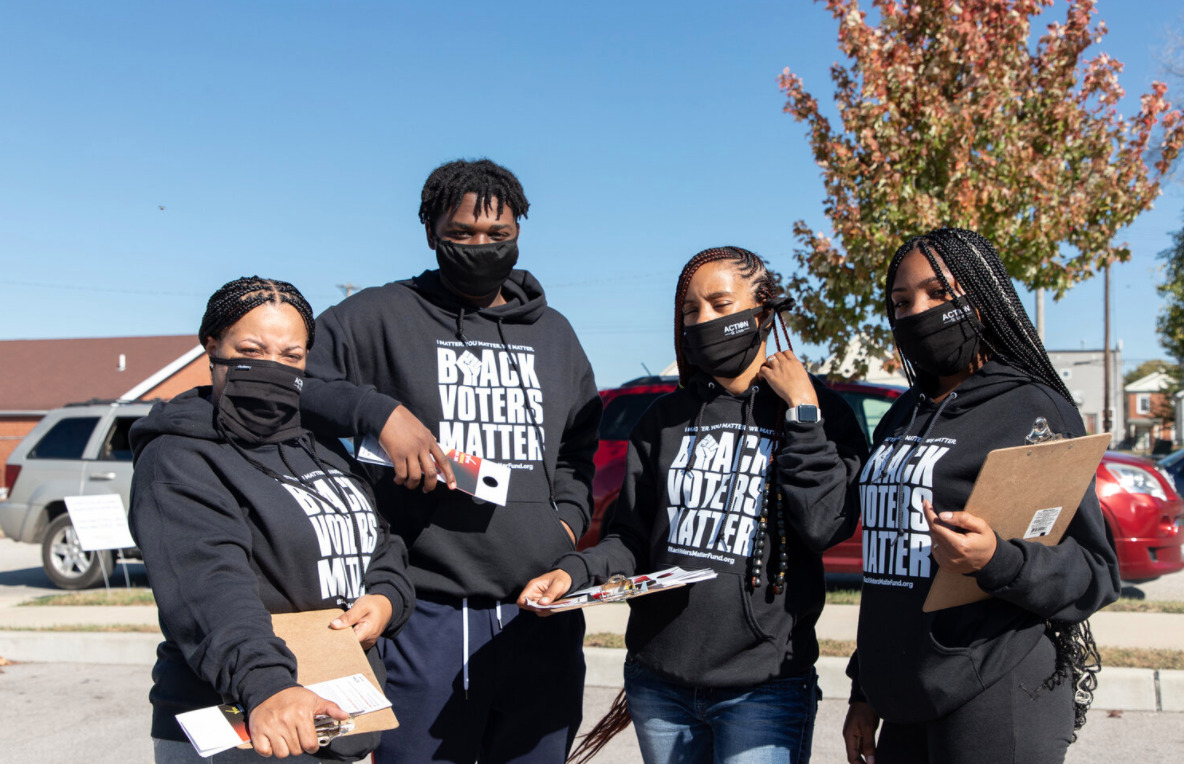 Enacting a Grassroots Vision
Fortunately, movement and community groups have opened alternatives to new corporate oriented development plans, like Greater STL Inc., that echo the past histories of Civic Progress. While the Greater STL plan was dominated by different corporations, organizers have sought to intervene to move this agenda beyond, as one expert explained, "merely mouthing the language on economic mobility." This has helped shift priorities, to some extent, in areas like the STL 2030 Jobs Plan to speak frankly about racial segregation and inequality. It focuses on five key areas - aerospace, automotive and defense; advanced business services; advanced manufacturing; transportation and logistics; and biomedical and health services. The question is of course how this will lead to shifts in tangible practice, in terms of workforce development, worker voice, training, and broader investment in local communities of color.
Surprisingly helpful in this process, according to several interviewees, is that  St. Louis funders are convening a "forward-thinking" forum of local philanthropic organizations, financial institutions, corporations, and local government funding agencies to align flow of capital to advance equitable economic mobility in the St. Louis region, though not specifically to grassroots organizations. While at the beginning stages, such directions give a specific role for philanthropy in helping move this conversation of development away from historical trends of extraction and towards a vision shaped by those most affected by inequity (and providing the labor to fuel growth).