While the patterns of co-governance among corporate power - whether it be agriculture, developers, prisons/police and goods movement - and local elites has shaped the Inland Region for decades, a new movement infrastructure has become more visible to give residents a real voice in shaping the present and future agenda. Many of these organized efforts are not new but reflect deepening member bases and a more visible set of strategies that engage directly and consistently at the local and state levels of power. A simple glance at the mapping of organizations created by the UC Riverside Center for Social Innovation and by community at the 2021 Inland Empire Policy Initiative shows the deepening roots of an infrastructure of "collective initiatives that advance core values of resilience, inclusion, sustainability, and equity." Undergirding this expanding infrastructure is an attempt to re-imagine shared life. One organizer shared: "We want to imagine new lives for ourselves, and that means bringing to light questions and centering issues of social and economic justice."
Building Relationships, Building Coalitional Power
Fundamental to this process is long, patient relationship building. This has been vital to efforts like the Indirect Source Rule that came from the broad-based coalition of labor, environmental justice and other grassroots residential groups. New leadership at the Inland Empire Labor Council has been critical to developing more transformational movement groups with community and labor, as have the Warehouse Workers Resource Center intersectional approach and attempts to create high-road, whole-worker solutions. Another organizer shared regarding the strategies redefining goods movement and environmental justice, "the key is that it is labor and environmental and community organizations and community members working seamlessly together after years and years of building relationships." 
Countering the corporate influence over regional development tables and local governance, the Just San Bernardino Collaborative (or Just SB) has been a critical actor in setting a new agenda, the People's Agenda for Economic Inclusion. Supported by a $2.7 million multi-year investment from James E. Irvine Foundation and the Inland Empire Community Foundation, the joint movement effort has turned to grassroots to understand needs and set economic and governance priorities. Through their launching survey, they sought input from more than 4,000 residents to grasp perspectives on labor, housing, education, environmental justice, economic development, arts/culture, and health care. Participating in Just SB are Time for Change Foundation, BLU Educational Foundation, Youth Action Project, Arts Connection, Inland Empire Labor Council, Warehouse Workers Resource Center, Inland Congregations United for Change, Congregations Organized for Prophetic Engagement, and the People's Collective for Environmental Justice.
Just SB organizations and the coalition have also been part of concerted community development efforts, like the fight for community benefits and sustainability in the Carousel Mall redevelopment. Set to become a multi-use shopping and housing center by master developers, San Bernardino Development Company, Just SB, and allies have fought for a binding agreement securing local hiring and good jobs, sustainable and clean energy infrastructure, and affordable housing.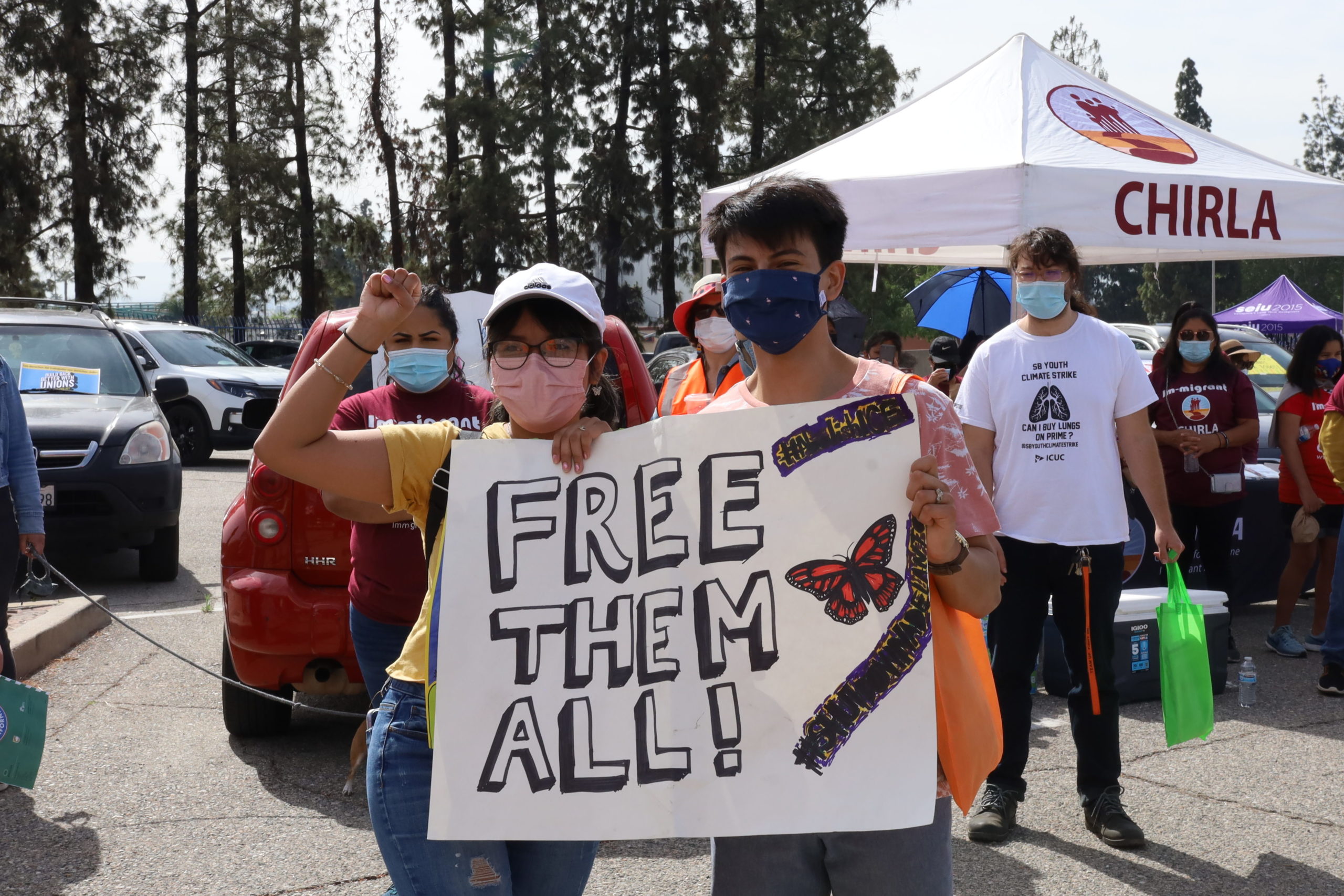 Creating Local Solutions & Implementing New Visions
Important to this expanding landscape is the way that organizations like Time of Change have not just addressed the impact of prisons but put formerly incarcerated/incarcerated communities at the center of this conversation. They have also linked long term activism to the patient, every day work of reconnecting parents and children, defining a new economy through new entrepreneurship funding, linking people to jobs and more. Youth, parents, and faith-based leaders at ICUC also helped secure city funds in San Bernadino for the California Partnership for Safer Communities (CPSC) alternatives to punitive violence in lieu of hiring new police officers in 2017. Youth-led groups have also taken a new vision decentering punishment to schools, with organizations like Alianza successfully pushing for adoption of restorative justice at four high schools, while also reshaping the Local Control Accountability Program to prioritize such efforts.
With the kinds of disinvestment and elite dominated local politics outlined that have defined the histories of the region, another leader explained: "Organizing and mutual aid is filling the gap of things public agencies aren't doing, so we begin to ask ourselves what are public agencies not doing right now and how can we fund those projects that support longer term infrastructure engagements, in order to come up with the best solutions for our communities." In other words, movements and groups like Time for Change Foundation have both addressed short term needs but are also coming up with innovations that can build community-controlled services and infrastructure.
A New Generation Comes to Power
Coalitional work has also deepened organizations' capacity and commitment to build power between election cycles that has proven effects on local governance. The increasing move to create more inclusive state and local representation has been preceded in many ways by a surge in voter registration and engagement led by local movement groups like Inland Congregations United for Change (ICUC),TODEC Legal City, and Center for Community Action and Environmental Justice. Their collective efforts have proven vital among youth, with voter turnout with youth 18-24 tripling between 2014 and 2018 midterm elections (which are often very low). Several groups that are part of these coalitions also have sister or partner 501(C)(4) arms that allow them to more directly support new leadership and initiatives.
As the above makes clear, youth are at the center of new movements in the region across issue areas, and binding many coalitions together. They have not just set the agenda, vision and analysis, but even conducted much of the research that goes to shape policy (and cited in this project). For example, youth of CCAEJ's research and effort on making technical emissions regulation accessible to the public helped move the Advanced Truck Rule, passed in 2020, by the California Air Resources Board to require truck manufacturers to sell an increasing number of clean, zero-emission trucks in California. Their multi-faceted approach, that asks deep questions and seeks more expansive answers, requires real resources. As one organizer shared, "Lots of local grown social justice advocates [particularly] young organizers and young people are embracing queer abolitionist feminist politics as a way of talking about social justice organizing. We need to support our young people right," specifically by "organizing multiracial coalitions" and building other forms of resources that center the vision, analysis, and strategies of the Inland Region's next generation.